Manage Student Environments
During class, you can manage student environments from the Instructor Console, including the following actions:
Suspend the environment

Delete the environment

Open the environment details page

Revert to the environment's original state (including any External Resources that were configured)

Zoom In

Extend the environment

Test connectivity or clear recent test results
To perform any of the above, in the Students section of the actions panel, click the checkbox next to each of the student(s) you want to manage. Then click

to see all possible actions. A dropdown menu button appears: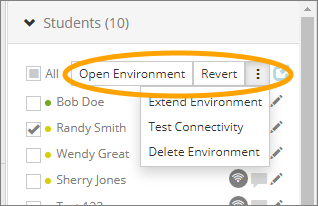 Note that the available actions may change, depending on the student(s) you've selected and the status of their class.
Click on the desired action and then confirm the activity, if needed.