Assist Students During Class
Students can ping you for assistance or message you. When you want to assist a student or check on their progress, you can take a closer look at what they're doing in their environment. You can also chat with the students, either one on one or as a group.
Students who need help can either message you or click a button to request assistance.
When a student messages you, an indication appears in the students section of the actions panel: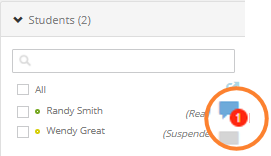 To see the message and respond, click the message icon (

).
When a student requests assistance, the Assist Me Requests icon turns blue. The number of open requests appears next to it:

Click it to see who needs help:

You can click the

to cancel a request, or click the message icon to start private messaging with the student.
To view a student's work closely, click

at the top right of the student's thumbnail and select Zoom in. This opens the VM that the student is currently working on in a separate browser tab.
Note
You will also see an option to Open Environment. This opens the environment details and lets you monitor and manage the environment's state, resource usage and so on.
To actively assist a student in their environment, select the Take Over option from the Zoom In menu: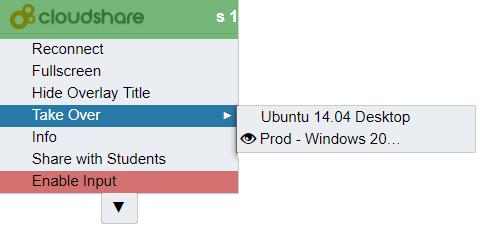 Select the VM that you wish to view and control over and then click Enable Input to interact with the selected VM.
The instructor console enables you to chat with the whole class and to chat one on one with students.
Use the Class Chat area to chat with the whole class.
Use the Students area messaging features to broadcast a message to all students and to chat one on one.
Assisting students in a large class can be challenging for a single instructor. CloudShare enables you to benefit from one or more additional instructors, quickly and easily.
While the class is running, anyone who is assigned the Project Manager role for the same project used by your class can also open the instructor console for the class and instantly access the student assistance functions (like Zoom and Chat) described above.
A Project Manager can monitor progress of the class and of each student from the console, as well as see any pings or questions from a student.
Like the instructor, a Project Manager can also broadcast a VM from a selected student.