Overview
Taking a Snapshot is a core feature of CloudShare and one of the most vital maintenance tasks you can perform within your environment. Think of it as simply clicking 'Save'. The dynamics behind it are a little more complex though as you are not just saving a document, you are creating a backup of all of the machines in your environment.
What are Snapshots?
Snapshots back up the entire environment as it is in its current state. So that means a complete replica of all of your virtual machines, the RAM, CPU and disk allocations, the network configurations, users, installed software, documents and settings. Even the current RAM and disk states are backed up so any running services and applications you had when you started the Snapshot will be saved in that state.
Once you start a Snapshot, you can continue working on your machines. Please note that any work done after clicking 'Take Snapshot' will not be included in the Snapshot that is currently being taken.
TeamLabs and Enterprise allow five or more snapshots for versioning. So as a part of your environment you will have your Snapshot as a back-up and then the environment as it is in its current working state. Please note that when you resume an environment from a suspended state, you are not resuming from the Snapshot. Think of your VMs as if they were laptops resuming from a hibernated state.
How to Take a Snapshot
It really is as simple as it seems.

See Take a Snapshot for more details.
Revert to a Snapshot
The time will come when something breaks. It is inevitable. When that happens, all you need to do is revert the environment.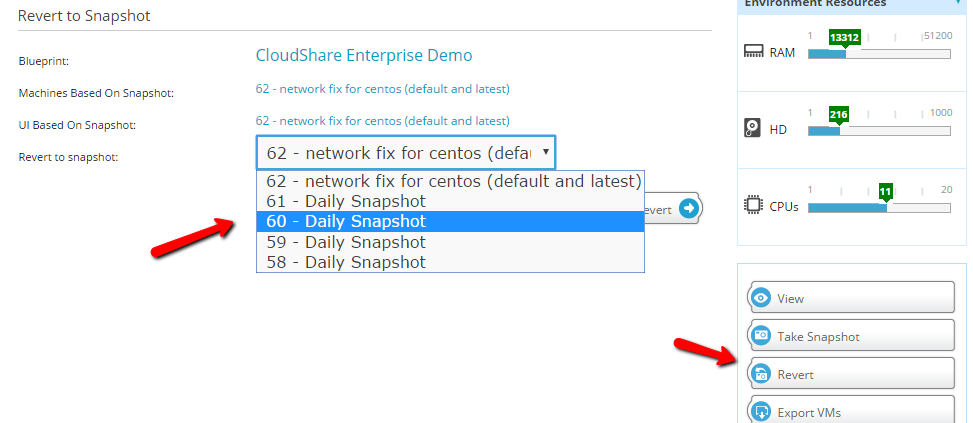 You also have the option to revert a single machine within an environment. That single machine will revert to its previous version based on the environment's snapshot.