Accessing Viewer Settings and Saving Changes
When you create a new environment, a Viewer instance is also created using default settings. CloudShare enables any user with sufficient Role permissions to change these settings, to help make your Viewer as productive as possible to fit your needs.
Tip
To switch to CloudShare's latest Viewer experience just click Switch to new Viewer at the top of the Customize Viewer page: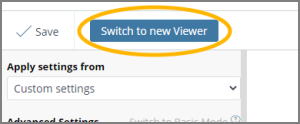 As detailed below, CloudShare provides both Basic and Advanced levels of customization.
From the actions list on the right side of the environment's Details page, click Edit Environment > Customize Viewer.

The Customize Environment Viewer page is displayed.

By default, a new Viewer is configured with settings applied from the Base Snapshot of your environment. With this selection, all options are read-only and you will not be able to make changes.

To enable changes, from the Apply settings from dropdown, select Custom settings:

The Basic Settings mode will be displayed, enabling you to make simple customizations to the elements of your environment:

To learn more about changing Basic Settings, click here.

The Advanced Settings mode provides detailed customizations to each of the elements in your environment as well as the way they will be displayed to an end user. Click Switch to Advanced Mode to enable these additional options:

To learn more about changing Advanced Settings, click here.

When you're done making changes, click Save. Your customizations will be stored with the environment.
Saving Settings to a Snapshot
If your environment was created from an existing Blueprint, you can apply your customizations to the Snapshot from which it was created.

To do that, at the top of the page, activate the Apply viewer settings to snapshot checkbox and then click Save.
Note
Keep in mind that applying changes to the Snapshot will affect all currently active environments, as well as any environments that are created from that Snapshot in the future.