Previewing the Environment
To see how an environment will appear to a user, go to that environment's Details page and click View from the action panel: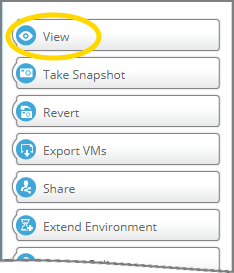 The Environment Viewer for the selected environment will be displayed in a new browser tab:
Tip
You can switch to CloudShare's latest Viewer experience to enjoy many new capabilities. Just click Switch to new Viewer at the top of the Customize Viewer page. You'll be able to switch the end user experience back to the legacy Viewer anytime.