CloudShare's viewer provides a clean and intuitive interface in which to view and share your environments.
Tip
For details on how to access the environment viewer in your browser, click here .
The environment viewer features the following items: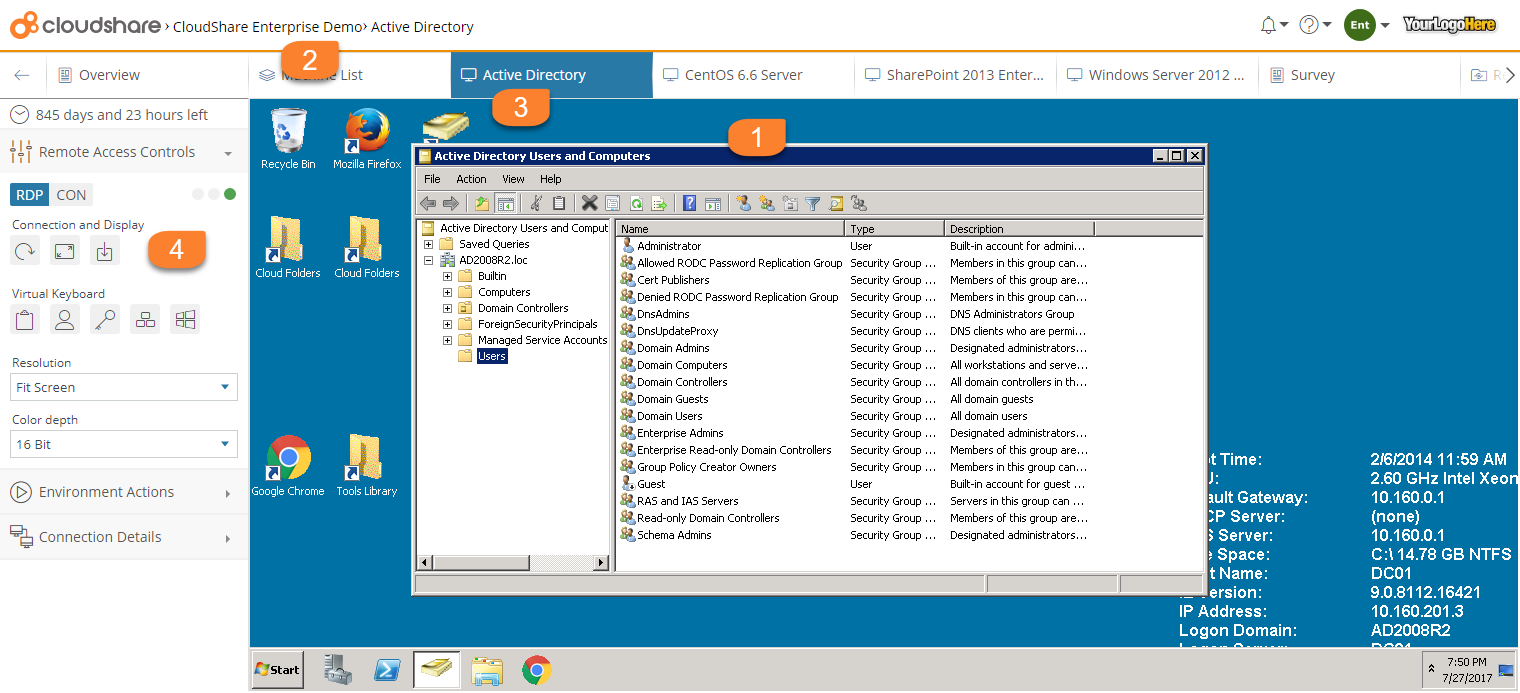 Workspace. The workspace is where most of the action is. It's where you view the content you are working on – whether it's an overview of the environment, a list of all VMs in the environment, or the VM you're accessing.

Breadcrumbs. Just take a look at the breadcrumb trail at any time to know exactly where you are in the environment.

Navigation Tabs. The navigation tabs along the top of the workspace give you a quick overview of all the VMs in the environment–with each VM represented by its own tab–and of other resources available in the environment. While a VM is being prepared, simply roll over its tab to see the progress. Move between VMs by clicking the tab of the VM you wish to work with.

Tabs are highlighted as follows:

The tab you are currently viewing is highlighted in blue.

If any VM fails to load, that VM's entire tab is highlighted in red, making it easy to recognize.

If a VM experiences errors, a red badge indicating the number of errors appears on the tab.

Actions Panel. The actions panel is where you perform all available actions on the environment and VM in which you are working – all in one centralized location. Also, you will receive notifications here about any errors in the environment (in addition to the highlighted navigation tabs).

In addition to VM tabs, the following additional types of tabs may be available:
Overview tab – providing an overview of the entire environment.

VM list tab – providing a list of all VMs in the environment, along with their details and options to perform a number of VM-specific actions.

Resources tab - providing materials you may need when using the environment.

External URL tab - opening another website either within the tab or in another browser tab, which you might need to refer to when using the environment.
Click the icon at the right of any section to expand its controls.

Roll over any button to see a description of its function.

The Remote Access Controls section opens by default when you navigate to a VM. The tri-colored status indicator at the right makes it easy to see the connection status of the VM at a glance.

The Connection Details section allows you to quickly view and copy/paste information regarding your connection.
If you experience any difficulty connecting to VMs or your connection seems to be running slowly, you can test your connectivity from inside the viewer.