One of the most simple yet effective features we have is the ability to adjust the resources of your virtual machines on the fly. RAM, CPUs and disk space can all be adjusted to suit the requirements of a specific VM to help improve performance.
For example, a standard Windows 7 or Microsoft Office machine will not need anything more than 1-2GB RAM and 30-40GB of disk space. However a VM running SharePoint Enterprise will easily require 16GB RAM and 100GB of disk space.
From the main Environment page, head to Edit Hardware.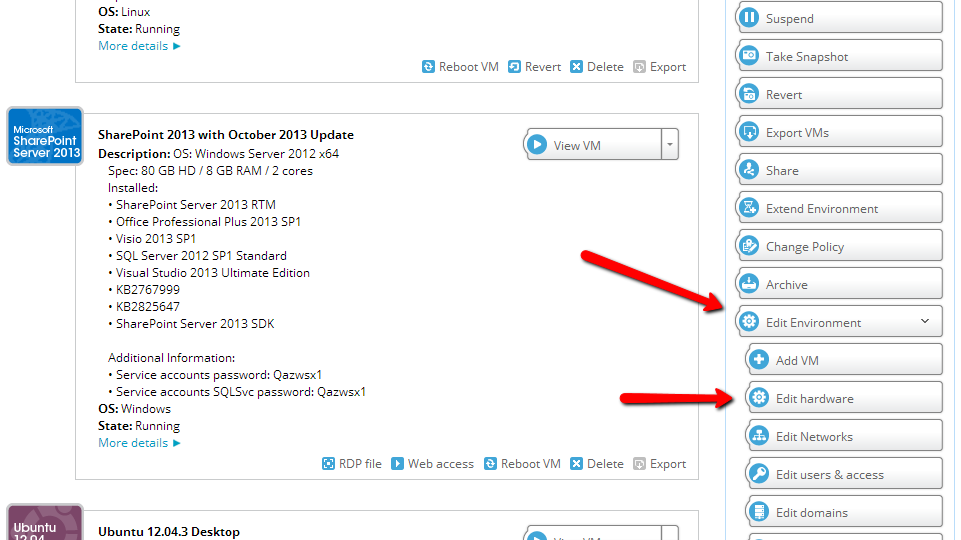 You will then have the main editing tools including a graph of the current resource usage.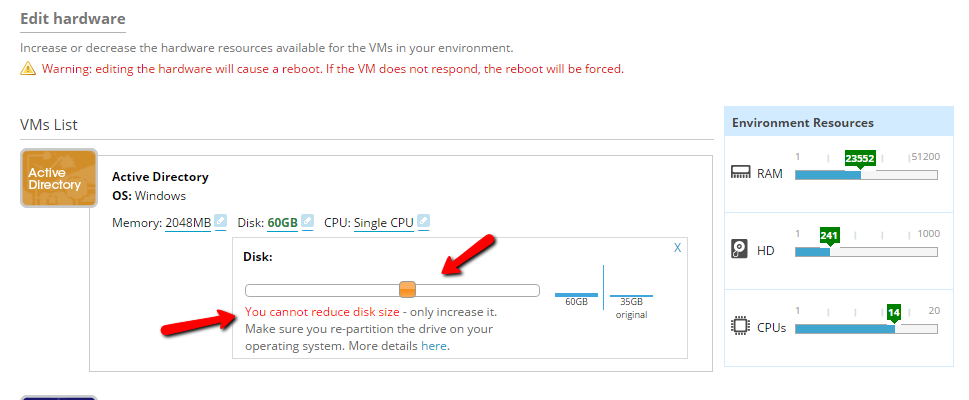 Adjusting RAM
To adjust the amount of RAM assigned to a specific machine, click the pencil icon and move the slider to your desired setting. Clicking save will assign the RAM and reboot the machine.
The current capacity of RAM is 16GB per virtual machine and 32GB per environment. TeamLabs and Enterprise VMs can go up to 32GBs, with larger environments. Do not forget to take a Snapshot to save those settings
Adjusting CPUs
To adjust the number of CPUs on a VM, clicking the pencil icon will bring up the edit dialog to assign a single, dual or quad processor.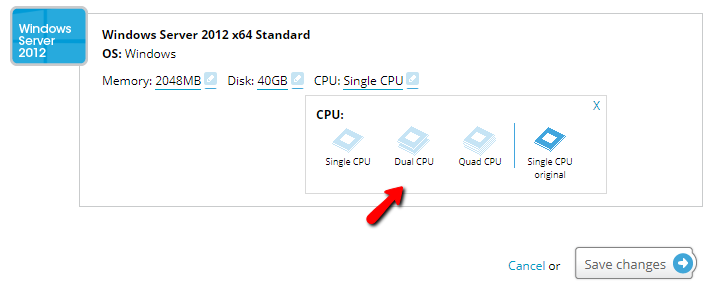 The maximum amount of CPUs that can be assigned to a single VM is four. Clicking save will assign the CPUs and reboot the machine. Finally, be sure to take a Snapshot to save those settings.
Adjusting Disk Space
Adjusting the Disk Space of a VM is a two-step process and can range in difficulty depending on whether you are using a Windows 7 based OS or an XP based OS. First you will need to assign the disk space in the CloudShare user interface, then repartition the Hard Drive from the VM's OS itself.
For the steps involved, we have created a walkthrough on increasing disk space.