Increasing the disk size of your virtual machine
CloudShare supports editing your virtual machine hardware and increasing the disk, RAM or number of CPUs. To access this functionality, bring up your environment and navigate to the 'Edit hardware' page: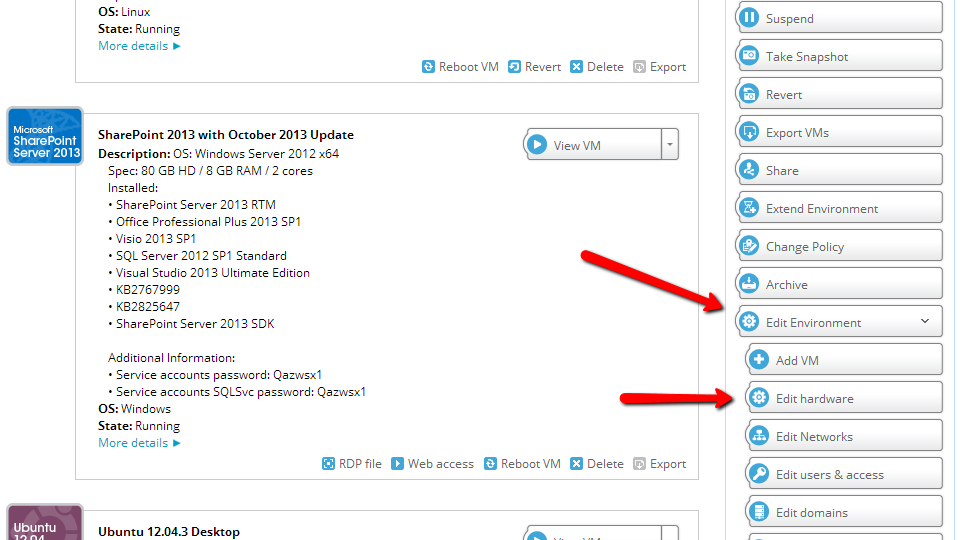 Once you are in the edit hardware page, you can edit the available resources. Click on the Disk edit icon, then use the slider to reallocate more drive space. Use this cautiously and do this in small increments when you need the space as you can not shrink the volume once the changes are saved:
Then, click 'Save changes' and your environment will begin updating.
Remember: if you edit your disk size, you will have to partition your hard drive accordingly.
Extending partition size in Windows
Access the 'Disk Management' utility, either by searching for it in Windows search or running the following from 'Run' or CMD: diskmgmt.msc
Once in, Right-click on the main partition and select 'Extend volume…'
Select the size you wish to allocate and click 'Next':
Finish the process and you will see the extra space assigned to your main partition.
Finally, take a snapshot to your CloudShare Environment ensure your new settings are saved.