CloudShare provides advanced, built-in video conferencing right from your class Viewer. There's no need to configure or use any other external applications.
Note
Built-in video conferencing features are available only when using CloudShare's new class Viewer.
During your class, click Audio/Video at the bottom right corner of the Viewer to start CloudShare video conferencing:

The CloudShare audio/video component will appear.

At the left side of the video player, click Settings to configure your camera and microphone devices:

From the dropdown menus that appear, select the Microphone, Speakers and Camera devices that will be used for the broadcast. (If no choices are available for one or more of the options, check to ensure that all the hardware is connected and working properly.)

Note

On first use, you'll need to consent to allowing CloudShare's video conferencing function to access the camera and microphone on your browser.

Test your microphone volume by speaking out loud while the popup is open. The volume bars underneath the Microphone setting will light up while you speak to help you determine the best volume level.

Test your speaker volume by clicking Test next to the Speakers setting. A test audio clip will be played to help you determine the best audio volume level.

When you have finished with all the settings, click Join. You will added to participants of the class video conference.
Working with the Video Component
The CloudShare live video component can be resized and moved freely to anywhere in the Instructor Console, at any time. It works like any other window on your screen.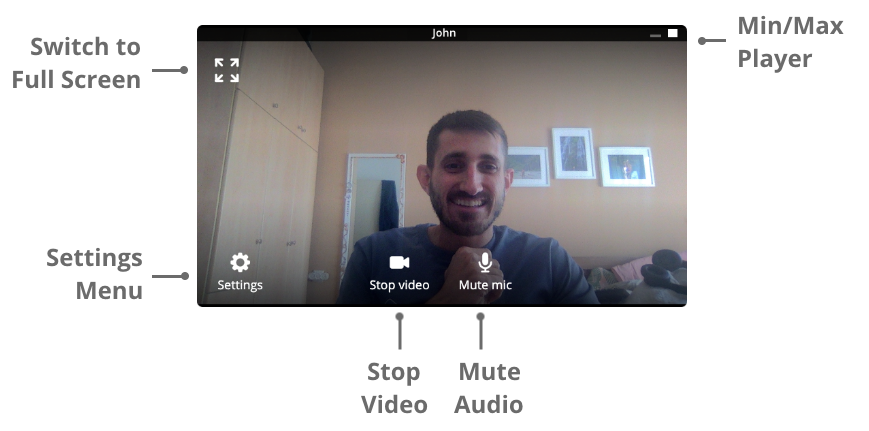 Switch to Full Screen

Switch to Mini-Player

From the mini-player, clicking the Switch to Full Screen icon maximizes the video component to fill the entire display. The player will use your monitor resolution settings to determine the best fit.

From full screen display, clicking the Switch to Mini-Player icon returns to the draggable mini-player display.

Settings Menu

Opens the Audio and Video Settings popup, enabling you to view and change device characteristics.

Stop Video

Turns off your camera and stops the video signal from being broadcast.

Mute Audio

Turns off your microphone and stops the audio signal from being broadcast.

Min/Max Player

Standard window icons that minimize or maximize the video player.

Minimizing the mini-player will hide the component window. Only a menu bar for the player will be displayed:
In order to use CloudShare video conferencing features, the following requirements must be met:
CloudShare's new class Viewer must be used.

CloudShare's video conferencing function must be allowed to access the camera and microphone on the participant's browser.

A compatible modern browser must be used (e.g., Google Chrome, Apple Safari, Mozilla Firefox, Opera and Microsoft Edge).

Video conference participants must be logged in to the CloudShare platform.

CloudShare uses Amazon Chime as the provider for video conferencing, which requires that port TCP/443 be accessible from the participant's browser to run the audio/video component. More specific information from Amazon Chime can be found here.

Minimum recommended bandwidth for highest quality performance:

Instructor: 1.2 Mbps upstream/downstream

Up to 4 Participants: 450 Kbps upstream, 400 Kbps for each participant downstream

From 5 to 16 Participants: 184 Kbps upstream, 134 Kbps for each participant downstream