Work with Multi-Step Classes
In CloudShare, a multi-step class enables you to learn in stages, with each stage using a different environment. The different environments are maintained in different Blueprints.
For example, in the first stage of a class you might train in a Linux environment, while in the second stage you train in a Microsoft Windows environment. Both stages are part of the same class, but the components and resources for each are tailored for the different learning requirements.
The steps are set by the Instructor when the class is created. Depending on the settings, the Instructor may give you the ability to change to another step on your own. Alternatively, the Instructor may switch steps for you when you have completed the required activities, and you will then receive a notification that the step for your class has advanced.
Changing Steps in a Class
When the Instructor has enabled class participants to change to another step, you will be able to switch steps using a button that appears in the CloudShare Viewer.
From the Environment Actions dropdown at the top of the Viewer, click Switch Step: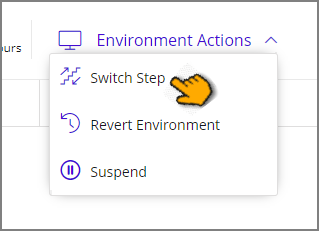 Then, from the choices that are available, select and confirm the step you need.
Caution
Use care when moving between stages. Whenever you change to another step in the class (forward or backward) the currently active environment will be overwritten and replaced with the new one.