Use Video Conferencing in a Class
CloudShare virtual training provides advanced, built-in video conferencing right from your class Viewer.
Live video is among the most productive and effective methods to engage users and transfer knowledge, and CloudShare enables you to access our fully-integrated video and audio capabilities by clicking a single button. There's no need to configure or use any other external applications.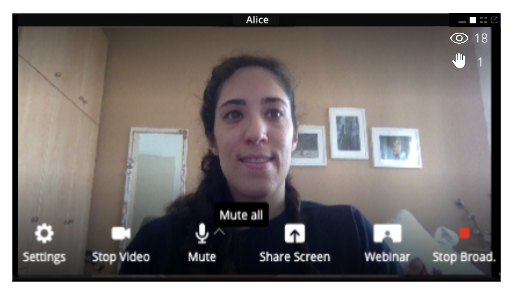 Note
Built-in video conferencing features are available only when using CloudShare's new class Viewer.
Video conferencing in CloudShare is intuitive, flexible, completely compatible with modern browsers, and fully-encrypted for maximum security.
CloudShare Live Video Features
Instantly available to the Instructor and students when a class starts, no invitations or outside links are needed

Two video modes: single presenter Webinar or all-hands Conference, switchable anytime, even during the class

Instructor screen sharing, including the ability to share any application and browser tabs from their device

Users can choose to show or hide their live video, and mute or unmute their live audio

Full-screen video display, resizeable/draggable mini-player, or minimized mode for audio-only

User-selectable gallery options to show all participants as well as the active speaker

'Raise hand' feature to enable a participant to ask a question

Instructor ability to mute all participants as well as mute a selected participant, when needed
Creating a video conference for your class as an Instructor? See details here.
Joining a class video conference as a participant? See details here.