CloudShare Integrations Hub
CloudShare enables fast integration with powerful platforms like Salesforce, Google, Docebo and others using our Integration Hub. You eliminate time-consuming manual data handling and benefit from automated synchronization with your designated platform.
Using integrations, you create a seamless flow of data between CloudShare and your external platform. There, you can run quick custom analyses, make data-informed decisions, and perform business activities using your actual training and POC data.
When you create an integration from your account, CloudShare will transparently access your selected platform, transfer data and execute actions, based on custom synchronization and mapping instructions.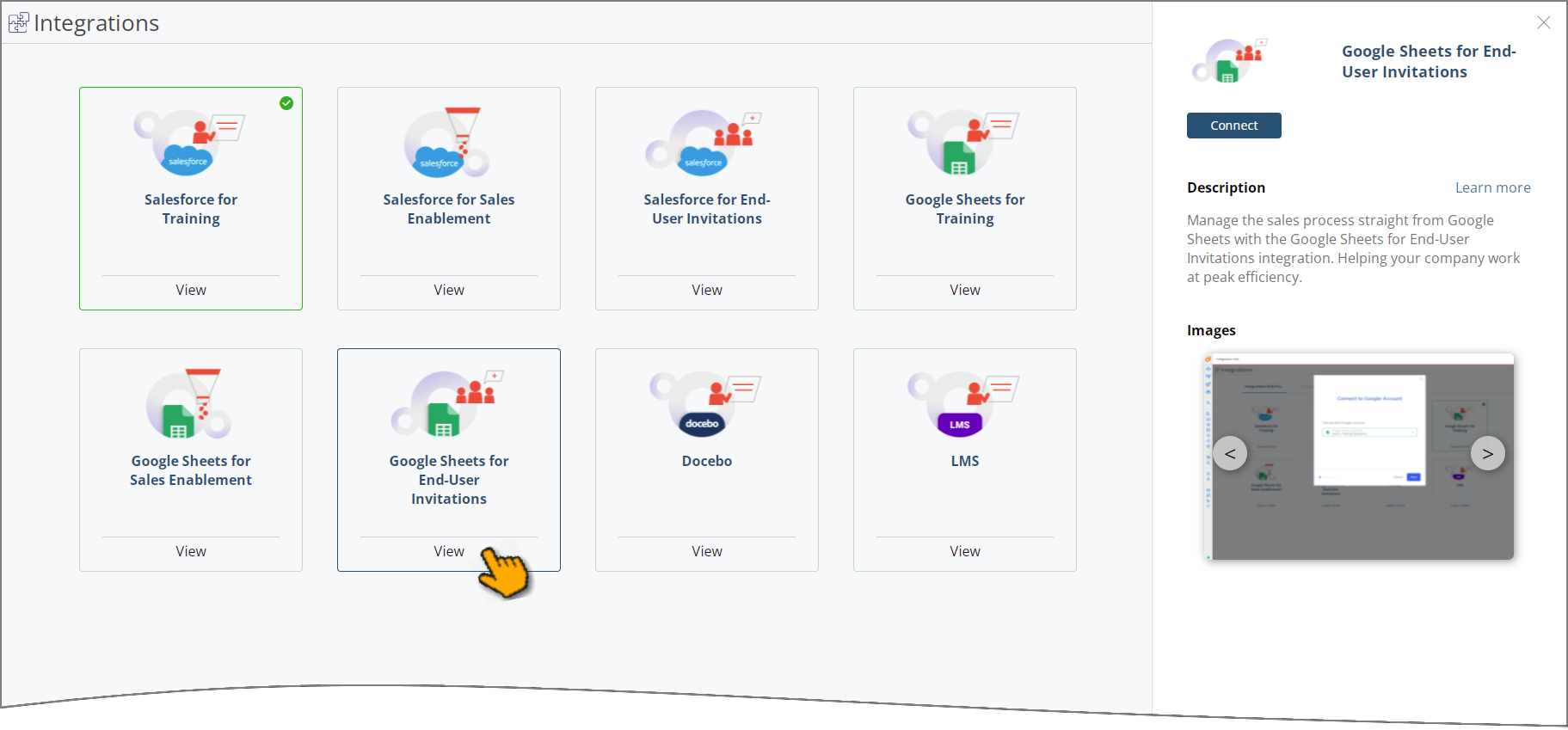 For example, with our Salesforce for Training integration, you can sync CloudShare class participation data directly with your Salesforce account to track your customer training progress, and use Salesforce manage their program.
Available Integrations currently include:
Salesforce for Training

Salesforce for Sales Enablement

Salesforce for End User Invitations

Google Sheets for Training

Google Sheets for Sales Enablement

Google Sheets for End User Invitations

HubSpot for Training

HubSpot for Sales Enablement

HubSpot for End-User Invitations

Custom Webhooks

Docebo

LMS
Creating CloudShare Integrations
An Account Manager can quickly add and configure integrations using a simple wizard provided on the Integrations page.
The number of concurrent Integrations that can be created will depend on the current license for an account.
Typically, you integrate a selected platform or application using the following procedure:
Select the integration module for the desired external platform and connect to it, usually via direct login or other authentication method.

Authorize the external platform to enable access by your CloudShare account.

Perform a mapping between the relevant external platform elements you will be using (e.g., fields or databases) and their associated relevant CloudShare elements.

Synchronize between the mapped external platform elements and CloudShare elements.

Following successful connection and synchronization, the selected external platform will be ready for work. All Project Members are able to view the Integrations for an account.

Whenever needed, an Account Manager can edit the integration in order to update its elements or synchronization attributes.
You'll find detailed instructions for creating and managing your integration in its related article in this section.
Should you have questions regarding an integration or need assistance at anytime, feel free to contact your CloudShare Customer Success representative.