Improve Your Browser's Performance
The quality of your CloudShare experience is directly impacted by the quality of your network connection. Because the CloudShare Viewer works from inside your web browser, it is sometimes possible to improve your experience by adjusting its configuration for the CloudShare connection.
After any Speed Test that is performed while using the CloudShare Viewer, a slider widget appears which displays the recommended settings for your current connection and browser setup, proposing a balance adjustment between network bandwidth performance and screen resolution quality, if needed.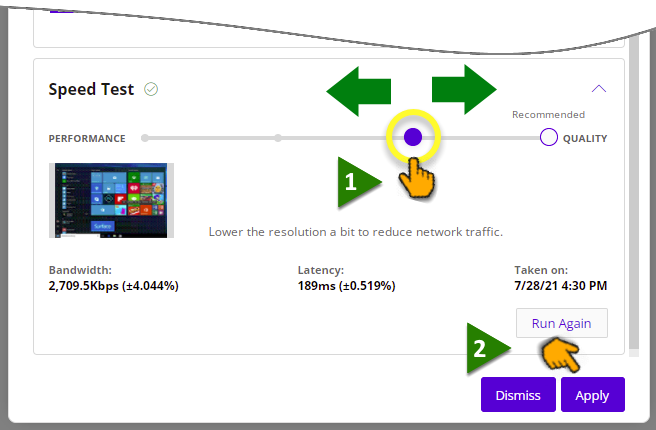 By optionally moving the slider widget to the left or right, you can also change the balance of these characteristics to tailor the browser to better fit your needs. Simple directions are included under the slider to help guide you.
To accept either the recommended or your adjusted performance balance following the speed test, click Apply. The settings will be updated to the current selection. To leave the balance as it is without making any changes, click Dismiss.
Following any adjustments, you can optionally click Run Again near the bottom right corner of the dialog to re-run the speed test and verify any performance changes: