CloudShare offers the ability to monitor access and meter resource utilization ensuring accountability. Some of the best practices for efficient and effective deployment of cloud resources are:
Management of blueprints (catalog of environment templates from which all environments are created)
Management of machine resources (the amount of RAM and DISK as allocated to each of the machines that make up an environment/blueprint) and implementing the optional soft and hard quotas that provide warning or limit the creation of concurrent environments based on active resources
Implementing multiple Policies which set the duration of active environments and manage the life-cycle of the environments
User role assignment within a project 
Project Managers are administrators for an entire project and have complete visibility to govern consumption by managing all cloud resources and users.
Managing Blueprints
Periodically review the list of blueprints and delete those that are old and no longer needed by your user community. 
To review the list, from the CloudShare Dashboard, navigate to Management -> Blueprints 
To review the historical utilization of blueprints, navigate to the Reports -> Resources sub-tab and generate a report based on the criteria filters provided
Follow these steps to delete the blueprints that are no longer used. This process is irreversible, please proceed with caution:
From the CloudShare Dashboard, click the Management -> Blueprints to bring up the list of blueprints in the project.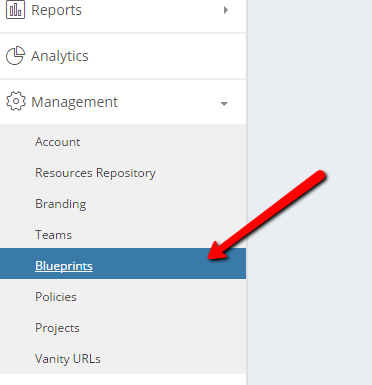 and from the table row, click the Details link of the blueprint that you want to delete
2. From the Blueprint Details page, click the name of the project in the Used in Projects section.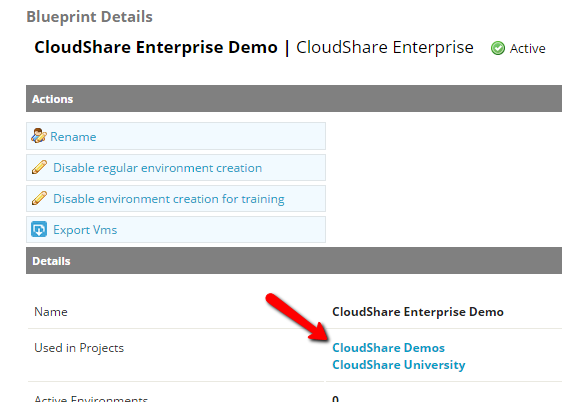 3. From the Project-Blueprint Details page, click the Delete actions button. 
Note: This will only allow you to delete the blueprints that do not currently have active environments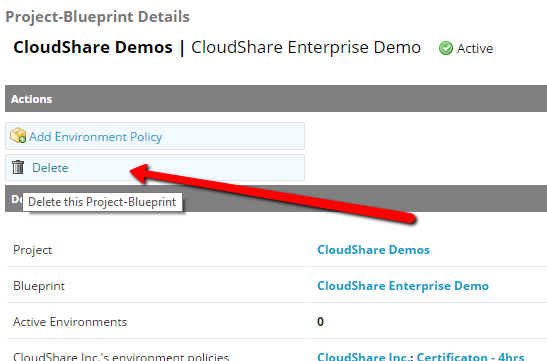 4. Confirm the action;
WARNING: This process is irreversible, please proceed with caution:
Managing Policies
Policies define the duration for which environment users will have the use of their environment, and how to handle inactivity. The environment's life time is set according to the policy associated with it.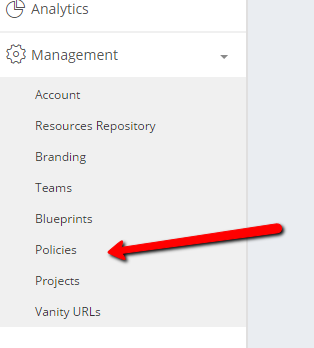 Duration
During the Runtime lease, the environment can be run. 
During the Storage Lease time, the environment will be archived and can be made accessible by extending it from the environment details page. After the environment disk time expires, the environment is securely deleted.
Automatic deletion (just like manual deletion) cannot be undone.
Environment Inactivity Handling
CloudShare detects activity on its environments, and can suspend then after an idle time in order to reduce your costs. Here you can configure what will be done if the environment is idle for a set amount of time.

Environments that are suspended can be resumed by any user that has access to them.
Managing Soft and Hard Quotas
Resource quotas can improve utilization of shared infrastructure by allowing environment resources to not be over-committed beyond baseline reservations. Resource quotas define the amount of DISK and RAM that a project can actively use. 
Soft Quota - Available as a Professional Services custom generated report with automated delivery notifying recipients that a baseline reservation has been reached. Subsequent environment creation will not be impacted
Hard Quota - If enabled and set to a pre-defined baseline, CloudShare will block the users from creating environments since that would exceed the allocated memory and or disk quota for the project. A service message will appear to users to try back later
For any questions or to request Resource Quotas please contact CloudShare Support.
Additional Options
Each blueprint can have one or many policies associated with it. One for each of your use cases (i.e. demo, development, training, POC and etc.). You may want to use the same blueprint for your demos that only last one hour or you may want to use the same blueprint for training that may last for 5 days.  By having the ability to select the proper policy during launching of environments, the life-cycle of environments are automated and utilization is managed.  For more information on the options please see this article or contact CloudShare Support.
Managing User Roles 
CloudShare Enterprise features a simple user hierarchy comprised of three distinct roles: 
Team Member:  

Team members can interact with their customers only - the actions of fellow team members or other customers not assigned to them cannot be viewed

Team Manager: 

Team managers are able to add new end users, but are limited to the scope of their own team; only project managers can see activity in multiple teams

Project Manager:  

Project managers are administrators for an entire project, able to see and monitor all users and all organizations in the project, as well as add new end users. Project managers are also able to manage and publish snapshots
For more information please see the following articles:
Managing Machine Resources
A Project Manager has the ability to adjust the RAM, DISK and CPU for each individual machine within an active environment. The Edit Hardware button can be accessed from the Environment Details page > Edit > Edit Hardware. For more information on adjusting the machine resources, please see this article. You must take a snapshot to save the changes back to a blueprint. Otherwise, your changes will be applied on your running environment only.