Connect to Your Application via Web Access
1. Accessing my machine via the Web
2. Share my machine via Web access
Web Access provides on-demand internet access to a web application running on your machines via a permanent web address. This means:
Teams of developers, QA, IT, administrators and customers can now access their environment via HTTP/HTTPS any time.

The system seamlessly auto-resumes suspended environments when a user accesses the environment via the Web.

This can be used to access SharePoint and other Web-accessible templates via the Web.
1. Accessing my machine via the Web
Simply click on the 'Web access' link on your machine summary page. If your machine supports a Web server, it will open up the permanent URL of the machine in a browser window.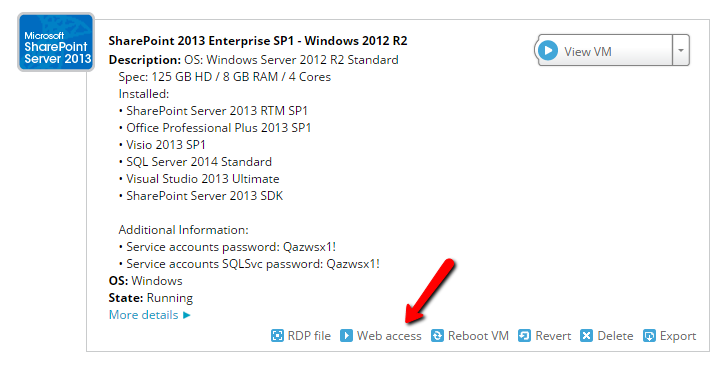 2. Share my machine via Web access
After clicking on the Web Access link above, it will open up the Web Access URL in a new browser window. Simply copy and send this link from the browser window to your participants, so that they can access it via their browsers.
The permanent Web Access URL is in the 'More details' section of the machine.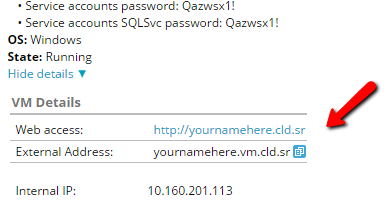 If the machine is in a suspended state, it will be automatically resumed when you or your participants access it, and a progress bar is displayed as the machine is being resumed.
3. Enabling Web Access
If you do not see the 'Web access' link your environment it may be disabled by default for that machine. You can enable Web Access by navigating to 'Edit Environment' and selecting 'Edit users & access'.
Then check on the 'Enable Web access' box:
Select whether you require HTTP or HTTPS (via ports 443 & 8443-8449). HTTP is the default setting:
Then save the changes and the Web Access link will be available in your machine list. Web Access also requires your application to be running on ports 80, 443, 3695, 8000-8010, 8080, 8180, 8280, 8360, 8365, 8585, 8443-8449.
Currently, Web Access supports the following ports in all regions:
HTTP: 80, 3695, 4848, 8000, 8001, 8002, 8003, 8004, 8005, 8006, 8007, 8008, 8009, 8010, 8011, 8080, 8200, 8360, 8365, 9070
HTTPS: 443, 8443, 8444, 8445, 8446, 8447, 8448, 8449, 8180, 8280, 8580, 3780, 3790, 8083.
Also, with that, you do not need to install your own certificate as we handle this for you.
If you are interested in personalizing your Web Access URL, you can assign your own URL to the root domain using Vanity URLs.
To ensure it will be accessible to your participants, be sure to take a Snapshot and if using a web application like SharePoint, edit Alternate Access Mappings.